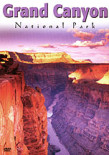 Grand Canyon National Park
DVD – 55 min
This is nature's most awesome sculpture, carved by the mighty Colorado river over millions of years. You'll have a bird's eye view as you explore the out-of-the-way waterfalls and monuments by air. In addition, a raft trip down the Colorado gives another perspective of the canyon's timeless beauty. Magnificent sunrises, sunsets, and the changing seasons are all here to enjoy at your leisure.
WINNER of the 1996 TELLY AWARD
AWARDED 4 star review from VIDEO RATING GUIDE.